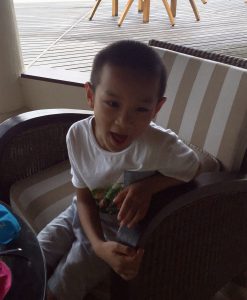 In July 2016, I was in the Maldives taking photos and came across a small Chinese kid (his name was Theo, see picture) that liked watching me editing my photos. We could not really communicate and his family left only a few days later. I ran into them however as they were departing. His mom asked me about my photos and I wrote down her email address. Once I was back home and had uploaded all my photos from that trip, I sent them a message with the link to my website. She sent me a thank-you reply, but I have not heard from them anymore.
Today, almost 3 years later, I get an email from the Mom. Her son had written a short story about meeting me in the Maldives and it was published in a magazine in China.
I am very touched and it inspires me to continue to take photos and put them up here. While I often think if my photos are good enough to share, I forget that not everyone has the luxury to see these beautiful creatures, even if the photo is not perfect. Thanks Theo! I hope you get the chance to dive one day as well!
---
I cannot read Chinese, so I asked online and Reddit user /u/droooze kindlytranslated the text for me and I think it ineeds no further explanation:
The publication is called 作文寶典, and this was an April 2019 special issue.
Two years ago, I went to the Maldives during the summer break. The sun and sands were hard to forget, but what really moved me was something that happened to me while I was there.
We were staying on a beautiful little island, completely surrounded by the sea, and I went snorkelling with my dad. Corals, fish, and kelp…I was mesmerised by the beautiful underwater scenery! However, there was so much more sea life to be seen that needed going to even deeper waters, but they didn't allow deeper dives for kids under twelve. Every time I saw someone strapping on those big diving cylinders, straddling into the water and slowly sinking beneath the surface, I became numb with envy, wanting so bad to explore the depths of the great ocean.
One afternoon, I saw a Mister from Germany at the seaside kiosk, on his computer and browsing through the underwater photos he took. I became super-excited, and rushed over to him. He asked if I liked them, and I nodded. He told me that his name was Oliver, and I told him about how I couldn't go diving because of my age. He decided to show me his collection of photos, and taught me many things about ocean life; I saw the charming Mr Turtles, dazzling schools of fish, and long-legged starfish. I was amazed at the huge and heavy underwater camera that he used to take the photos – I guess taking those pictures wasn't easy! We were speaking different languages, and gestured to each other when we didn't understand; it was almost as if I had those cylinders strapped on, deep diving with him, exploring the oceans…
On the second day, we had to go, but Mister stayed on the island to continue taking pictures. When it was time to leave, I went to say goodbye to him. I left him my mum's email because I wanted so badly to see his other photos. Finally, he patted me on the head, saying: "See ya later, my good friend!"
I still regret being not allowed to go on a deep dive, all these days after coming back home. One afternoon, on a dark, cloudy day, I received a message from Oliver. He sent me hundreds of dazzling underwater photos. At that moment, I felt as if my trip to the Maldives hadn't even ended!
The rain was pouring outside, but there was a bright ray of sunlight piercing through the clouds. I cheered up.